06.18.2013 / 12:12 PM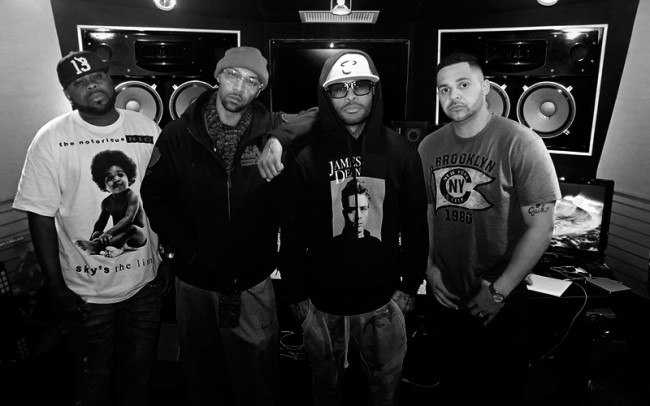 Slaughterhouse back in the studio and new album news
Slaughterhouse is back in the studio working on their next album.  Read on for some exclusive details.
With the month of June comes Summer, and things naturally begin to heat up. Same thing is happening over here, as Slaughterhouse have officially begun recording their second album for Shady Records/Interscope. The Core Four are spending the month of June in a secret location in New York City cooking up something new with a team of producers including the J.U.S.T.I.C.E. League, Araab Muzik and Just Blaze. Just Blaze is set to serve as the album's Executive Producer.
The collaborative approach — everyone has been working in the studio at the same time with the hand selected top-notch production squad — has the House Gang feeling great about the album's prospects. "I'm really excited about doing things a different way this time around", says Joe Budden. This isn't a send-tracks-around, and everyone-records-in-their-own-studio type of album. Joell Ortiz said that he is happily looking forward to the process as well: "The creative being creative! Fun, fun fun!"
Royce Da 5'9" added that "everyone is in the perfect space, mentally. It feels great to be back in the studio with the guys and I think that I can speak for everyone when I say that we just wanna make an album that will stand the test of time and mean sum'n to Hip-Hop."
If Crooked I's attitude towards this project is any indication of where it's headed, prepare for an onslaught. "God of the Westcoast, I birthed these n!3@@& now I'm about to burry 'em. Bloody Axe PigFace Slaughterhouse Mafia!"
There is no set release date yet for the album. Please check back with us here at ShadyRecords.com for further updates and stay engaged with us on our new #TrustShady Tumblr.
More News