04.17.2014 / 01:01 PM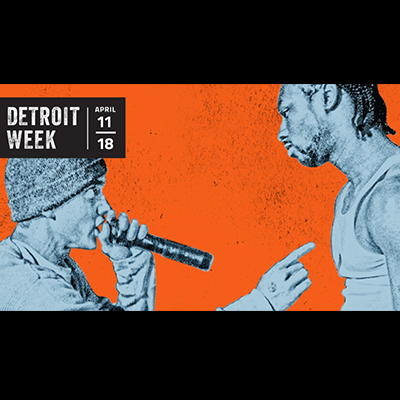 An Oral History of the '8 Mile' Rap Battles
Relive '8 Mile' with an oral history of the featured battles, as told by Eminem, Paul Rosenberg, and others.  Read more after the jump.
"When 8 Mile hit theaters in the fall of 2002, it was a minor revelation. We hoped it'd be good — we had no idea it'd be that good. Eminem and his unlikely collaborator, director Curtis Hanson — fresh off a whimsical Michael Chabon adaptation, Wonder Boys — loosely approximated a few hard days of Marshall Mathers's come-up in rough-and-tumble '90s Detroit. Rendered in muted blues and grays, obsessively authentic, and boldly understated, the result was, quite possibly, the best rap movie ever made.
It was also, in no uncertain terms, a love letter to a scene. The movie culminates in a virtuosic sequence: Scarred, reeling, and increasingly inclined to give no fucks, B-Rabbit wades into the grimy dungeon of the Shelter to do battle with his demons — and the Leaders of the Free World.
Those startling battle rap scenes were faithful re-creations of the actual battles Em came through on his way to the top. The lineage of Detroit battle rap goes, first, through the Rhythm Kitchen, a weekly party hosted by party promoter and clothing designer Maurice Malone at a Chinese restaurant called Stanley's Mania Cafe. Malone — inspired by the hip-hop parties he gleefully took in during a brief stint living in New York — then opened the Hip Hop Shop, which became the epicenter of Detroit rap. "Every Saturday between 5 p.m. and 7 p.m. we would move all the clothes out and open up the floor and let guys battle," Malone says. And although re-created on a soundstage in a warehouse for the movie, the Shelter was — and still is — a real place, where real, sweaty battles take place. "That instinct," Eminem says of his will to battle, "never goes away."
In the '90s, we knew what was happening as it was happening in L.A. and NYC hip-hop. It took us a little while to catch on to Detroit. Thankfully, 8 Mile — specifically, its heart-pumping, near-pitch-perfect finale, explored here in full — came along and forever immortalized the city's grimy scene."
Read the entire article on Grantland HERE.
More News