04.28.2014 / 01:13 PM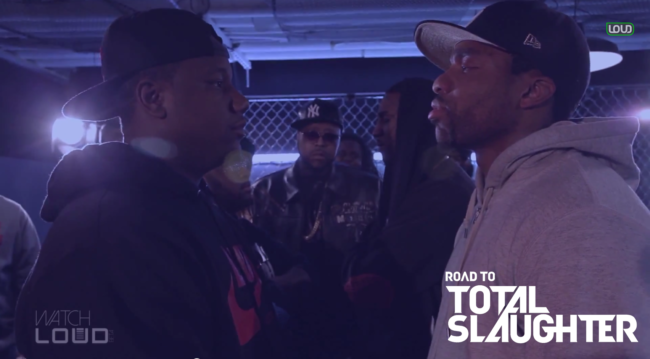 Shady Films + WatchLoud.com present: Road to Total Slaughter
Shady Films and Slaughterhouse have teamed up with WatchLoud.com for the biggest rap battle event in history. UPDATE – Pre-Sale Tickets available now! 
Get your pre-sale tickets here: http://shady.sr/TS1PreSale
Password: SLAUGHTER

Eminem's Shady Films and WatchLOUD.com announced today the debut  live event for newly formed battle league Total Slaughter, which was launched earlier this year by Shady Films and Shady Records super-group, Slaughterhouse. Total Slaughter will take place at Hammerstein Ballroom in New York City on Saturday, July 12. Leading up to the live event, hip hop and lifestyle website WatchLOUD will air Road to Total Slaughter, a new competition reality series that will determine the undercard battlers.
Total Slaughter will provide the biggest stage ever in rap battle history, providing a platform to elevate battling to its rightful position in popular sports. By combining television-quality production techniques with the world's best battlers, Total Slaughter will deliver three hours of intense, raw hip hop, and be a rap battle experience for the ages.
"Total Slaughter gives Shady Films, along with Slaughterhouse and WatchLOUD, the platform to elevate battle rap." says Paul Rosenberg, President of Shady Records and Shady Films. "We are very passionate and excited about battling and we see it as a sport that deserves the same level of organization and respect as any other competitive league."
Two highly anticipated battles are set to headline the first official Total Slaughter event this summer. One showdown will be a long-awaited rematch—more than 10 years in the making—as two all-time greats, Loaded Lux and Murda Mook, settle some unfinished business from their one and only prior matchup, a historic battle back in 2003. The other will be a face-off between Shady Records' own platinum-selling artist Joe Budden of Slaughterhouse and Hollow Da Don, considered by many to be one of the most dangerous MCs around.
Leading into the live event, WatchLOUD.com will release a four-part reality series called Road to Total Slaughter, which will feature eight of the hungriest battle MCs in the country living together and competing for the right to face-off on the undercard of Total Slaughter. Filmed earlier this year in Brooklyn, Road to Total Slaughter will be featured on WatchLOUD in June.
The Total Slaughter event will take place at Hammerstein Ballroom at Manhattan Center in New York City on Saturday, July 12. Tickets to Total Slaughter will go on sale to the public through Ticketmaster beginning May 16, with a limited number of discounted tickets available through pre-sale from May 2 through May 9. For more information and updates on the Total Slaughter league and event or Road to Total Slaughter, please visit
www.WatchLOUD.com and www.ShadyRecords.com.
More News