11.21.2014 / 02:30 PM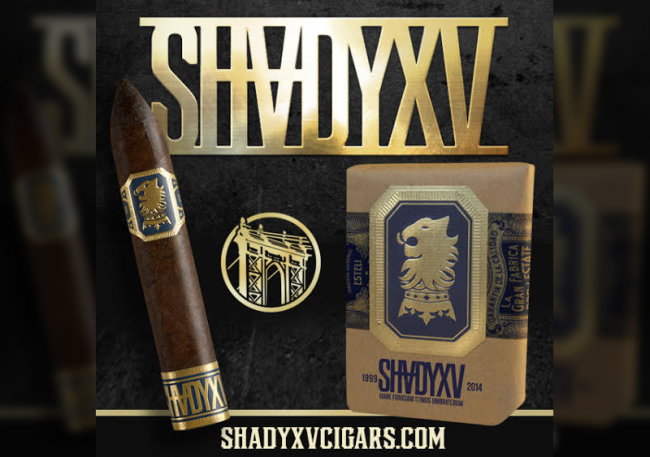 SHADY RECORDS x DREW ESTATE: UNDERCROWN SHADYXV CIGARS
We have partnered with Drew Estate to produce Undercrown SHADYXV Cigars in limited quantities. Hit the jump for more info.
GET MORE INFO ON THE COLLABORATION HERE
Estelí, Nicaragua – Drew Estate announced today the release of the Undercrown ShadyXV, a line extension to their coveted Undercrown line, produced in partnership with Shady Records. The NY and Detroit-based Shady Records celebrates their fifteenth anniversary in 2014 and will be working with Drew Estate on the release of the Undercrown ShadyXV. ShadyXV, a compilation celebrating the label's anniversary and featuring greatest hits alongside new music from Shady Records artists, will be released on November 24.
The Undercrown ShadyXV will be offered in a 5 x 50 box pressed belicoso size, featuring the same blend as the Corona Viva line. For hardcore fans, this release follows the lineage of the Corona Viva and Dogma blends. The cigar will be limited to 500 10ct soft packs, which will be sold exclusively through Detroit-area cigar retailers (full list below) in honor of Shady Records' fifteenth anniversary.
When asked about the project, Drew Estate co-founder Jonathan Drew stated that, "this project has been in the works for some time and I couldn't be more amped that it's finally coming to fruition. Anyone who knows JD understands my affinity towards hip-hop, so to have this opportunity to work with Paul Rosenberg and the Shady family is a true honor. Drew Estate is always on the cutting edge and 'in the cut' — and the Undercrown ShadyXV is no exception. This will be a collector's piece for both the Drew Estate and the Shady fan."
The 10ct soft packs of the Undercrown ShadyXV will retail for $99.95 MSRP and will be sold at the retailers listed below:
• Churchills, Birmingham, MI
• Churchills, West Bloomfield, MI
• Wild Bill's, Roseville, MI
• Wild Bill's, Commerce, MI
• Smokes on Burdick, Kalamazoo, MI
• La Casa, Detroit, MI
• The Wine Garden, St Clair Shores, MI
• Jenuwine's, Troy, MI
• Jenuwine's, Sterling Heights, MI
• Jenuwine's, Royal Oak, MI
Paul Rosenberg, Eminem's long-time manager and partner in Shady Records, was the impetus behind this collaboration and had this to say about the Undercrown ShadyXV from New York:
"As an avid boutique cigar smoker and a long-time Drew Estate fan, this collaboration on our label's 15th anniversary is a huge honor that I'm really excited about. JD and his team went all-out to create a really special smoke that I'm very proud to be associated with."
The ShadyXV will be shipped to stores by November 27th. Please remember that quantities are extremely limited. To learn more about the ShadyXV cigar, visit http://shadyxvcigars.com.
About Drew Estate, Inc.
Founded in New York City in 1996, Drew Estate has become one of the fastest growing tobacco companies in the world. Under their mantra "The Rebirth of Cigars"™, Drew Estate has led the "Boutique Cigar" movement by innovating new elements to the tobacco industry with their unique tobaccos and blending styles that have attracted new and traditional cigar enthusiasts. In their Gran Fabrica Drew Estate, the Nicaraguan headquarters, Drew Estate produces a variety of brands such as ACID, Herrera Estelí, Kentucky Fired Cured, Liga Privada, MUWAT, Natural by Drew Estate, Nica Rustica, Tabak Especial, UnderCrown, and Java by Drew Estate.
More News