03.03.2017 / 01:00 PM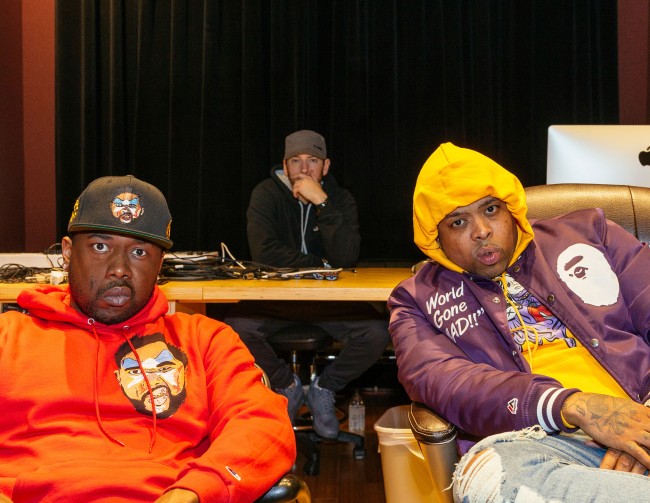 Shady X Griselda Ink Deal For Westside Gunn and Conway
We are very excited to announce that we have signed a deal with Griselda Records for both solo and joint projects from Westside Gunn and Conway.  Hear a new track and read more after the jump.
Premiere: Hall N' Nash – MachineGun Black (prod. Just Blaze)
Shady Records announces today that it has signed an exclusive deal with Buffalo, NY-based hip-hop label Griselda Records for artists Westside Gunn and Conway. In doing so, the rappers — who are also brothers — become the first out of Buffalo to sign a deal with major label distribution. Griselda was founded by Westside Gunn in 2014.
The pair got their start in the early 2000's, with Conway steadily earning a reputation as one of the most skilled rappers in the region, while Gunn worked as his manager, eventually developing his own career as an artist and launching Griselda. Since breaking onto the scene with the label's independently-released mixtapes and a series of SoundCloud-released music, Gunn and Conway have caught the attention of the media and fans alike, garnering respect from everyone from DJ Premier and Pete Rock, to Anderson.Paak, to Oscar-winner Mahershala Ali. A growing cult following has resulted in Griselda's vinyl releases and label merchandise selling out in mere minutes, while murals of the two rappers and their album covers have popped up on walls in cities across the United States and in places as far-flung as Australia, France, Romania, and the U.K.
Commented Eminem: "The style and energy of Griselda Records, Gunn and Conway are infectious. We can't wait to put them on the platform they have earned and deserve."
"We're bringing a new sound to the game, but it's also reminiscent of the grimey 90's," said Griselda founder and recording artist Westside Gunn. "Art is in everything we do…it's the essence. We're fusing boom-bap/dark sounds with the hipster cool kid lifestyle. A new lane is being carved."
Aside from their solo projects, Gunn and Conway also record together as Hall n' Nash (paying homage to their favorite WWE tag team The Outsiders). They recently completed a soon-to-be-released project with The Alchemist, and the duo will also be releasing an album under the Shady deal. Westside Gunn's last project was the Hitler Wears Hermes 4 mixtape, which was released in October. The 11-track project includes features from Stalley, Conway, Smoke DZA and more. Conway has been steadily releasing tracks for his Devil's Reject mixtape series and has been heard on Shade 45's Tony Touch and Statik Selektah shows.
Check out a documentary on Griselda Records here.
More News