09.07.2017 / 04:15 PM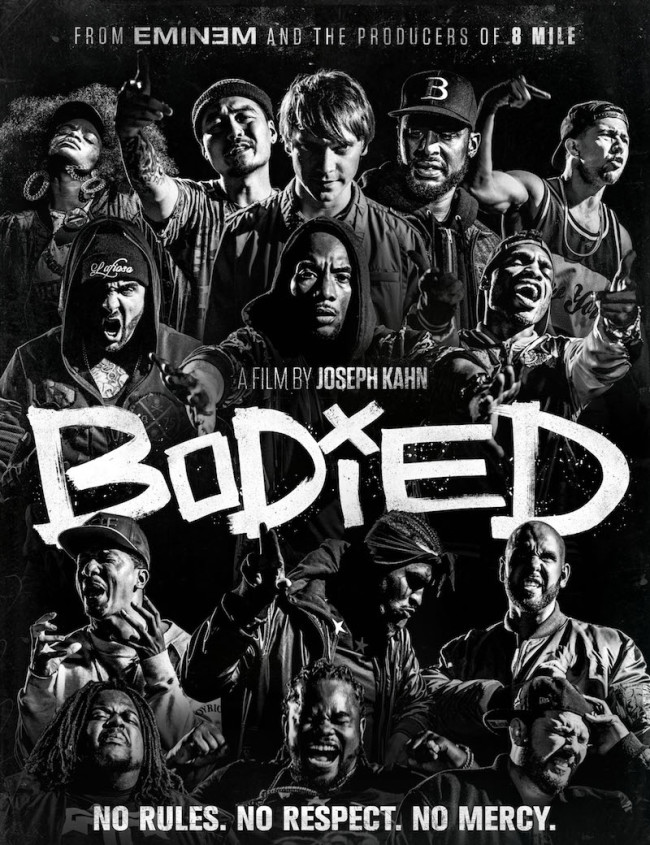 MOVIE PREMIERE: 'BODIED' From Eminem & the Producers of '8 Mile'
BODIED premieres tonight.  Find out more info on the film and the premiere below.

BODIED, the hot new feature from music video legend Joseph Kahn opens TIFF's Midnight Madness today, September 7th, at 11:59PM. Produced by Eminem, Paul Rosenberg, Adi Shankar, and Jil Hardin, this satirical look at the world of battle rap stars Calum Worthy (Disney's Austin & Ally), Jackie Long (Soul Men), battle rapper Dizaster, Rory Uphold (HelLA), Anthony Michael Hall (The Breakfast Club), rapper Dumbfoundead (Detention), Walter Perez (NBC's Friday Night Lights), Shoniqua Shandai (YouTube Red's Sing It!), and rapper and radio host Charlamagne Tha God. It was co-written by Toronto-based battle rap champion Alex "Kid Twist" Larsen.
A satire set in the word of competitive battle rap, BODIED is the story of Adam Merkin (Calum Worthy), a progressive grad student who becomes an accidental battle rapper after encountering Behn Grym (Jackie Long), a respected icon in the merciless sub-culture of poetic personal insults. As Adam makes his politically-incorrect climb up the ranks, he risks alienating his father (Anthony Michael Hall), a renowned writer and tenured professor at Adam's university, along with his skeptical girlfriend Maya (Rory Uphold) and all of his academic friends. His success breeds outrage however; Adam soon faces growing backlash on campus and the consequences of his controversial talent.
121 mins / USA / 2017
TIFF FESTIVAL SCREENINGS
RSVP for tickets: screening@cineticmedia.com
Thursday, Sept. 7, 11:59PM – Ryerson – Premiere
Friday, Sept. 8, 1:15PM – Scotiabank 3 (P&I)
Saturday, Sept. 9, 1:45PM – Scotiabank 4
Thurs, Sept 14, 7:45PM – Scotiabank 12 (P&I)
Thurs, Sept 14, 8:15PM – Scotiabank 1
More News