01.18.2018 / 12:34 PM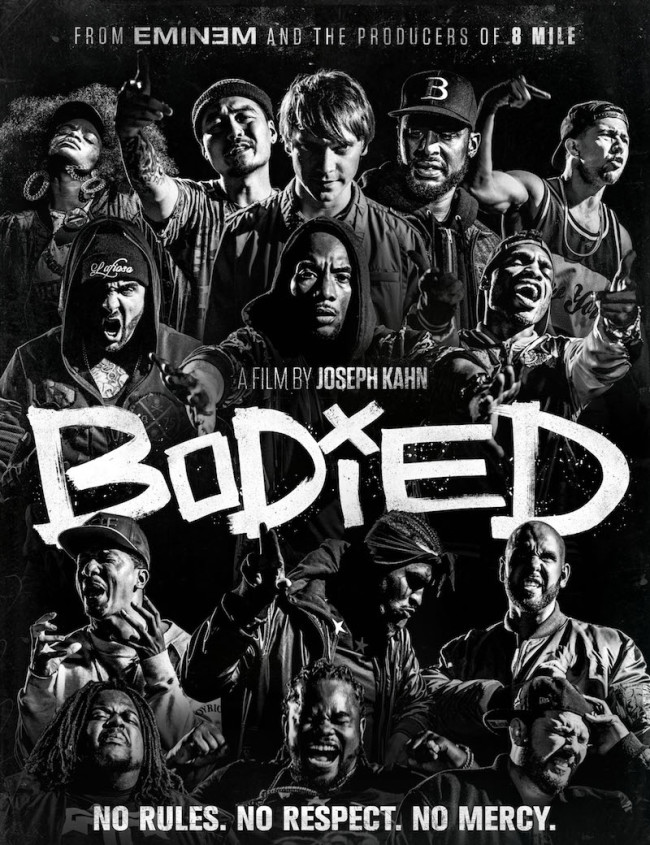 "BODIED" Releasing on YouTube Red In 2018
BODIED, the film directed by Joseph Kahn and produced by Eminem, Paul Rosenberg, Adi Shankar and Jil Hardin, will release to YouTube Red in 2018. More info after the jump.
YouTube has acquired worldwide rights to BODIED, the critically-acclaimed film directed and produced by legendary music video director Joseph Kahn and produced by Eminem, Paul Rosenberg, and producers Adi Shankar and Jil Hardin. BODIED is the satirical story of Adam Merkin, a progressive grad student who becomes an accidental battle rapper whose success breeds outrage.
The film stars Calum Worthy (Austin & Ally, The Thinning, and American Vandal), Jackie Long (Idlewild, ATL), Shoniqua Shondai (Sing It!, The Fosters), Walter Perez (The Avengers, Fame), Rory Uphold (Hella). Also featured are well known battle rappers Dizaster, Dumbfoundead, Hollow Da Don and media personality Charlamagne Tha God. The film is written by Alex Larsen (aka Kid Twist), a former rap battler turned screenwriter.
The film first premiered at the Toronto Film Festival where it won the Grolsch People's Choice Midnight Madness Award. It also won audience awards at AFI Fest and Fantastic Fest. A critics favorite – the movie currently has a 95% on Rotten Tomatoes with Variety calling the film a "feverishly entertaining spectacle" and IndieWire proclaiming its "the most subversive movie about hip hop ever made."
The film will hold an exclusive sneak preview at Sundance (see below) before a theatrical release, followed by YouTube Red in 2018.
The exclusive sneak preview of BODIED will take place at Holiday Theater, 1776 Park Ave., Park City on Sunday 1/21 at 5:30pm. The screening will be preceded by a public reception with director Joseph Kahn at the YouTube House on Heber Ave from 1:30-3:30pm. Tickets are open to the public that attend the reception and will be first come, first served. Remaining seats open to the public, first come, first-served.
Watch the trailer for BODIED below.
More News