10.29.2020 / 09:36 AM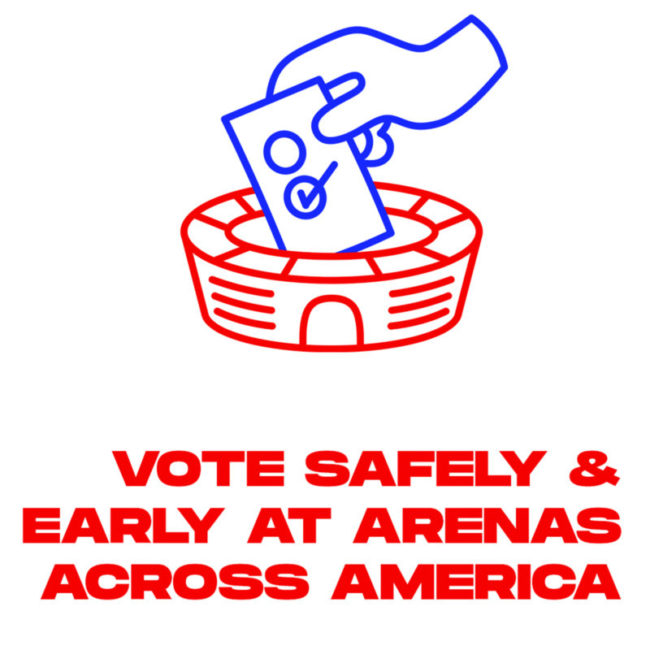 OVER 70 MAJOR ARENAS HAVE OPENED THEIR DOORS FOR VOTING
Chuck D, Eminem, Perry Farrell and other artists join LeBron James, Doc Rivers, NBA, MLB, NFL, NHL & MLS arenas and teams to increase in-person voting options.
In response to Covid and the removal of many polling places, Election Super Centers launched the "Make History Here" initiative to ensure access to safe, socially-distanced voting at sports arenas across the country. The non-partisan group has been working with local election authorities and more than 70 NBA, MLB, NFL, NHL and MLS arenas and teams as well as prominent artists and athletes, to let communities know their local venues are open as polling locations.
"With less than a week to go before election day, we're seeing record breaking early voting numbers across the country, and this effort is a once-in-a-lifetime opportunity to encourage voters to make their voices heard at their favorite sporting venues," notes Public Enemy's Chuck D. "Every American deserves access to a ballot, and every vote counts."
"You're used to going to these arenas to cheer on your favorite team. Now you can use these spaces to really make your voice heard in an even more profound way — by exercising your right to vote," said Doc Rivers, head coach of the Philadelphia 76ers.
"We're at the point now in this election where history is in the making," adds Perry Farrell. "The best in us is coming out to vote in our country's finest stadiums and arenas."
Eminem adds, "Being able to head to a stadium or arena to vote makes it easier and safer than ever to use your voice. With six days left these are places you can go to and safely do it in-person. You only get one shot…sorry I couldn't resist!"
Leonardo DiCaprio, Mark Ruffalo, Orlando Bloom, Jeffrey Wright, Mariska Hargitay, DL Hughley, T.I., Sarah Silverman, DeAndre Jordan and Maddie Ziegler are among other notable names that have shared the "Make History Here" campaign.
For more information, visit www.makehistoryhere.org to learn where you can vote.
More News