11.26.2020 / 08:56 PM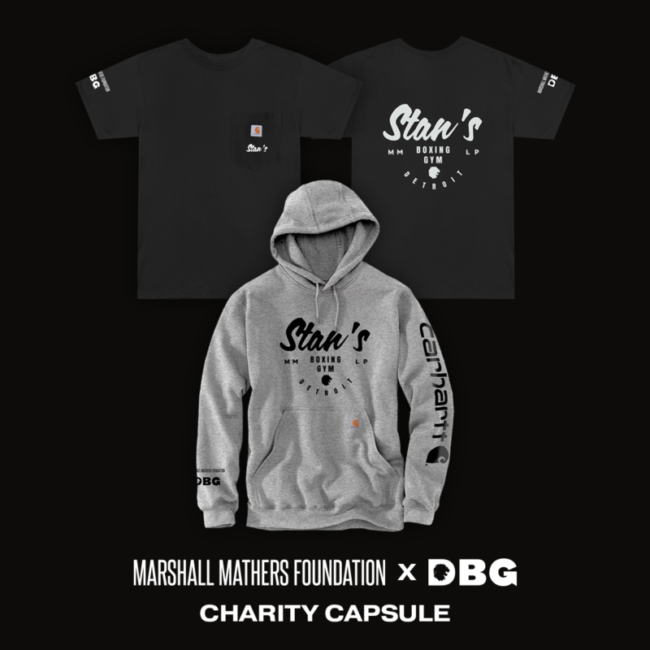 SHOP NOW: MMF x DBG CHARITY CAPSULE
Just in time for Black Friday, the Marshall Mathers Foundation is releasing a limited-edition line of clothing for a good cause. The designs also make a nod to "Stan" and the 20th anniversary of The Marshall Mathers LP.
The Marshall Mathers Foundation x DBG #Stan #MMLP collab on Carhartt gear will raise funds to help the Downtown Boxing Gym (DBG Detroit) knock out COVID-19 related learning loss. DBG is a free academic and athletic program on Detroit's east side that's working around the clock to prevent students from falling behind during the pandemic.
"We're facing a crisis like we've never seen and we're doing everything we can to support our kids and help them make it through," said Khali Sweeney, DBG's founder and CEO. "To have Eminem and the Marshall Mathers Foundation step up during this time and help raise much needed funds means the world to us. This is what we do in the D. We take care of each other. And we are truly grateful."
Royce Da 5'9", Director of Community Engagement and Social Justice Initiatives for The Marshall Mathers Foundation, said: "I've experienced firsthand the discipline, commitment, and focus that boxing training instills in young people. I'm passionate about the sport, and I'm passionate about the role that DBG plays in our community. We need to make sure the important work they do continues."
The t-shirts and hoodies sell for $30 and $60 and are available online at the Eminem Store (shop.eminem.com) while supplies last. 100% of the proceeds will support DBG's tutoring, mentorship, enrichment programs, college and career prep, social-emotional skills building, and basic needs support like transportation, meals, and more. Learn more at dbgdetroit.org.
The Marshall Mathers Foundation is a charitable organization dedicated to disadvantaged and at-risk youth in Detroit, Michigan and its surrounding communities. Our mission has expanded to stand as an ally in the fight against social injustice and for racial equality nationwide.
More News