10.27.2022 / 11:59 PM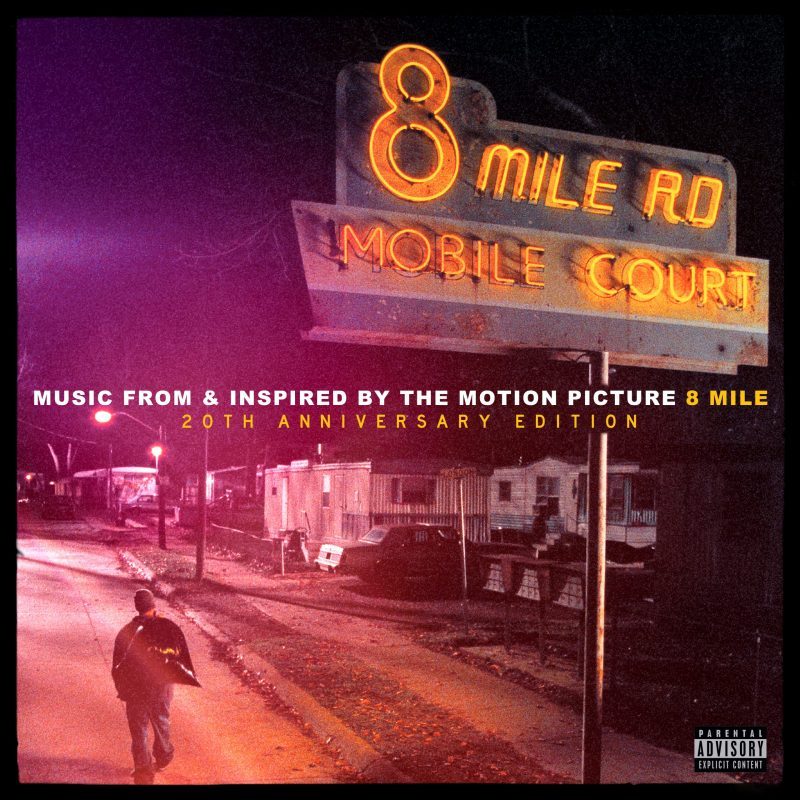 STREAM NOW: 8 MILE 20TH ANNIVERSARY EXPANDED EDITION
Celebrating the 20th anniversary of '8 Mile' – the expanded edition of the official soundtrack has dropped on streaming services.
The 20th Anniversary Expanded Edition features 16 bonus tracks – including instrumentals & the original demo version of Eminem's "Lose Yourself".
Originally released on October 29, 2022 – the official soundtrack debuted at number one on the Billboard 200, selling over 700,000 copies in its first week and eventually became the fifth best-selling album in the US of 2002, with sales of 4x million copies. The soundtrack spawned the number-one hit single "Lose Yourself" by Eminem, which won the Oscar for Best Original Song, and the album has since been certified quadruple platinum by the Recording Industry Association of America (RIAA).
Listen to Music From & Inspired By The Motion Picture 8 Mile: 20th Anniversary Edition here.
TRACKLISTING
1. Lose Yourself – Eminem
2. Love Me – Eminem, Obie Trice, 50 Cent
3. 8 Mile – Eminem
4. Adrenaline Rush – Obie Trice
5. Places To Go – 50 Cent
6. Rap Game – D12
7. 8 Miles And Runnin' – Jay-Z Featuring Freeway
8. Spit Shine – Xzibit
9. Time Of My Life – Macy Gray
10. U Wanna Be Me – Nas
11. Wanksta – 50 Cent
12. Wasting My Time – Boomkat
13. R.A.K.I.M. – Rakim
14. That's My Nigga Fo' Real – Young Zee
15. Battle – Gang Starr
16. Rabbit Run – Eminem

BONUS TRACKS
17. Lose Yourself (Instrumental) – Eminem
18 Love Me (Instrumental) – Eminem, Obie Trice, 50 Cent
19. 8 Mile (Instrumental) – Eminem
20. Adrenaline Rush (Instrumental) – Obie Trice
21. Places To Go (Instrumental) – 50 Cent
22. Rap Game (Instrumental) – D12
23. 8 Miles And Runnin' (Instrumental) – Jay-Z Featuring Freeway
24. Spit Shine (Instrumental) – Xzibit
25. Time Of My Life (Instrumental) – Macy Gray
26. U Wanna Be Me (Instrumental) – Nas
27. Wanksta (Instrumental) – 50 Cent
28. R.A.K.I.M. (Instrumental) – Rakim
29. That's My Nigga Fo' Real (Instrumental) – Young Zee
30. Battle (Instrumental) – Gang Starr
31. Rabbit Run (Instrumental) – Eminem
32. Lose Yourself (Original Demo Version) – Eminem
More News